In a career that has spanned over 30 years in broadcasting, Mr. Schemmel developed expertise in sales and management that carried his sales teams to unprecedented success in Nashville.
He began his career in 1985 with WVJS/WSTO/Owensboro Cable in Owensboro, Kentucky. In May of 1989 he accepted an entry level position at legendary WSM AM/FM and grew his billing to $1,000,000+ in just five years. Along the way Mr. Schemmel became the top billing sales person for the Grand Ole Opry in the history of Gaylord Entertainment Company and helped pave the way for an NTR department that led the local market for more than a decade.
Mr. Schemmel became the Local Sales Manager in January 2000 and was promoted to Sales Manager one year later. He managed sales for The Grand Ole Opry, WSM AM/FM, WSMONLINE.COM and his newly created Synergy Group. In three years of management he led his sales team to accomplishments that in 2002 included over $150,000 of revenue on the Internet and NTR/sales programs unique to the radio industry that produced over $1.1 million. These same programs are now available through Gabriel Media. His 21.6% local market growth last year, according to Miller, Kaplan, Arase & Co. rates as one of the industry's more stunning accomplishments since his radio stations were ranked #13 and #14 for A25-54 respectively.
He has sold "in the trenches" during every kind of situation with nearly every tool imaginable and brings that innovation and zest to Gabriel Media's clients.
Mr. Schemmel is a graduate of Kentucky Wesleyan College with a Bachelor of Arts from the College of Telecommunications. He is a regular guest speaker at Belmont University and Middle Tennessee State University. He resides in Hendersonville, Tennessee with his wife and two children.
---
In his 34 year career in broadcasting, Mr. Padgett has experienced success at every level of radio sales and management. He accepted the position of Account Executive with Nashville radio stations WLUY AM and WYHY FM in 1982. December of 1983 he was recruited to Gaylord Entertainment's historic country formatted radio stations WSM AM/FM and the world's longest running live radio show, the Grand Ole Opry, as an Account Executive. Gaylord added News/Talk/Sports formatted WWTN FM to its radio compliment in 1995.
Over the next 20 years Mr. Padgett steadily moved up the ladder at Gaylord by serving as National Sales Manager, General Sales Manager and Vice President/General Manager for the radio division.
Mr. Padgett was instrumental in leading Gaylord's three station group to remarkable success in revenues during his twelve year tenure as General Sales Manager and VP/General Manager. Over the past two years with only modest ratings but utilizing the same sales training, programs and techniques that Gabriel Media now offers its clients, the Gaylord group out performed the Nashville market's revenue growth threefold, according to the independent accounting firm of Miller, Kaplan, Arase & Co., LLP.
This revenue success, even in the toughest of times, have made Mr. Padgett uniquely qualified to assist radio stations and groups that need to significantly raise their revenues with innovative sales ideas and proven sales programs that garner huge amounts of new business.
Mr. Padgett is a graduate of the University of Tennessee with a Bachelor of Science Degree from the College of Communications where he majored in Broadcast Management. He is the Chairman of the Board for the Center for Youth Ministry Training in Brentwood TN.
Prior to his college graduation, Mr. Padgett spent four years as an Operations Specialist in Pearl Harbor on board the USS Cochrane, a Guided Missile Destroyer, in the United States Navy. He resides in Franklin Tennessee with his wife of 31 years and two children.
---
Ali has been with Gabriel Media since September of 2006.  As the most Senior Market Manager in the company, he's worked in markets all over the country from Florida all the way to Washington state.  His experience in managing and motivating sales staffs of all sizes and tenures has allowed him to bring the best out of a team.
Ali has close to 20 years of radio experience, having worked his way through sales and sales management.
After attending Gannon University to play football, Ali graduated from Valdosta State University (where he played football as well) with a B.A in mass media communications and subsequently with a master's degree in public administration. In his spare time Ali is a World champion martial artist in the discipline of Tae Kwon Do.  He resides in Atlanta, GA and is the father of three.
---
Having grown up on a family farm, Michael has a unique small market background with more than 15 years of sales and management experience.  His business management experience and marketing background makes him a natural at speaking the language of small business owners or working with CEO's of large corporations.
Sales managers and AE's alike love working with Michael, because he brings a passion to the industry unmatched by any other!
Michael is an avid fan of everything Cornhuskers and if you can believe loves to play polka music. Michael resides in Columbus, Nebraska with his wife and five children.
---
Blake Fulton, Vice President of Sales / New Business Development
Blake is the Vice President of Sales for Gabriel Media and has been a key driver in taking Gabriel Media to unpresented levels. He leads all aspects of new business development, partnership agreements and handles relationships with Gabriel Media's largest partners.
Blake spent eight years as an executive in the cable television industry with Scripps Networks Interactive (HGTV, Food Network, etc.) and Fox Networks (Fox Sports, FX, National Geographic Channel, etc.), where he negotiated multifaceted programming agreements with cable, Telco and satellite distributors, as well as created affiliate marketing partnerships plus very complex retransmission consent agreements. Blake negotiated contracts valued at over $500 million during his time at SNI and Fox!
Prior to joining the sales management and contract negotiation side of the industry, Blake co-hosted and produced the highest rated sports talk show in the Southeast and helped build WWTN 99.7 into the number one overall radio station in the market. Blake also handled play-by-play duties on both radio and television for college football games, NCAA Tournament basketball games, championship boxing and arena football.
Throughout his career, Blake has worked hand-in-hand with ad sales executives in creating unique partnerships that deliver huge results for advertisers. His knowledge of the programming, sales and marketing elements of radio, cable and broadcast TV makes him a valuable asset to the Gabriel Media team.
Blake played baseball and graduated from Lindenwood University in St. Charles, MO with a degree in Broadcast Communications. He currently resides in Franklin, TN with his wife and daughter. Away from the office, Blake enjoys playing golf, traveling and watching sports.
---
Lindsay started her career in 2006 with Gaylord Entertainment/WSM AM 650/The Grand Ole Opry selling sponsorships and AM radio. She continued her career for the next eight years with South Central Media (Mix 92.9 WJXA/96.3 JACK-fm WCJK). Lindsay became a million dollar biller and led the staff in NTR sales. She has two beautiful daughters and has been married to her husband, Alex, for ten years.
During her radio tenure at South Central Media, Lindsay succeeded with the Gabriel Media program and brings that unique experience to her clients. Considering that her father, Allen Schemmel, is one of the co-founders of Gabriel Media, you can rest assured that the apple doesn't fall far from the tree!
---
Michelle joined Gabriel Media in October 2007 as the Operations Manager. Her broadcasting career started in 1978 at WSM Radio and has spanned 31 years, where most of her time was spent in Sales, Traffic and Promotions with WSM Radio and WSMV Television.
Michelle resides in Nashville, Tennessee with her husband of 33 years. She enjoys "watching" all types of Sports and is very involved in mission work in Honduras and El Salvador.
---
Melanie Davis, Creative Director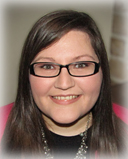 Melanie joined Gabriel Media in 2016 as Creative Director. She has worked in operations management for small businesses for over 5 years. She brings a creative eye and fresh looks to our presentation designs.
Melanie resides in the Dallas, Texas area where she spends her free time crafting, reading, and spending time with her nephew.
---